This is a Sponsored post written by me on behalf of Bright House Networks for SocialSpark. All opinions are 100% mine.
Turn any room in house into a TV room with Bright House Network TV (BHTV) for you computer, iPad, iPhone and most Android devices. Read more from Bright House Networks and Make Any Room a TV Room!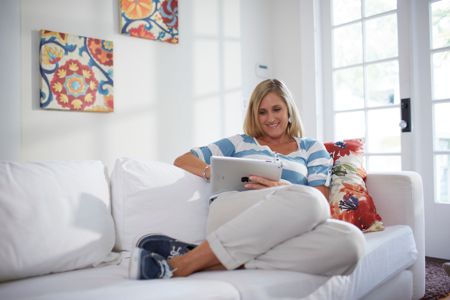 Bright House Network TV is a free app and website, you can easily view all HD programming anywhere in your house from your iPad, iPhone and most Android devices. Access the web and view it from your computer. You can even access an on-screen guide on your TV and set it up to record them to your Bright House DVR. 
With the easy to read channel guide you an flip through your favorite networks with just a slide or tap of your finger on your device. 
Bright House TV uses your wireless internet connection so if you want to watch the cooking show in the kitchen you can. Working in the garage ? No worries just grab your iPad, iPhone or other device and your good to go. Bright House TV gives you the flexibility to take your favorite programs with you any where in your house. You don't have to stay glued to the TV! 
If you're a Bright House Network customer the BHTV is free to you! All you have to do is login to your account, go to My Services and set it up. Easy as pie! You can also get the Apple and Android Apps from the Apple Store or Google Play. You can also view it on your computer at https://bhtv.brighthouse.com/.  You can also click on the link provided to download the app now. download the app
There are currently over 250 channels available throught BHTV and they are adding more constantly. Still have questions? Check out BHTV's FAQ to see if the answers to your questions are there. If not contact customer support they are always helpful! 
Be sure to follow Bright House support on Twitter too!