Weekends are when SHAM's get to spend time with their hubby's. It's when the working folks finally get a little break from their work. Families and friends get together, a time to relax and get away from the everyday work week routine. Yeah for the weekends!!
What about those weekends when you get a day to yourself? 4 of my children are adults with babies of their own, and Noah who spends every other weekend at his father's, it often leaves me with at least one day to myself. Most of the time it's spent with the hub's just lounging around the house, but with golf season in full swing (which normally kicks in around spring time). I've had many of Saturdays to myself, like last weekend and again next weekend. I've decided to make use of my me time, and call those days "Pamper Me Time". Now I am not talking about a pamper me day at a spa spending a fortune. I am talking about pamper me time, doing things like giving myself a facial, pedicure, manicure, a hot bath, candles and a good book kinda of pampering. Just a little inexpensive R&R or Pamper Me Time. Sounds great huh?
(links below this point open (in a new window) to an adult only site)

This coming weekend will be my first Pamper Me Time and I have my day already planned. Hot bath, a good book and a pedicure. (I do my own although my foot spa thingy isn't working, I will attempt the pedicure anyways) I haven't taken a bath for almost 2 years. Haha that sounds all kinds of wrong, I've showered don't worry!
Now for the perfect bubble-lies something with a soft scent, and I ran out of my favorite. No worries, I've planned this for a couple of weeks and I have my eyes on a set from Eden Fantasys (I know what you're thinking, Wait!! Hold up Deb! Isn't Eden Fantasys that site to get smexxy time stuff?) HA! first let me explain, I thought the same thing until I read an article on one of the mommy blogs I follow, and she set me straight. Yes you can get smexy time stuff there, but you can also get beauty products like make-up, skin care, bath & organic body care, and dresses. They also have a cooking/ recipe area called EdenCooks, of course they have their smexy time stuff too. But I have bath time, beauty time and pamper me time products on the mind.
I am going to order their Belleza box which has 5 of their bath products in a cute pink box. I also have my eyes on their Shunga garden of edo organic collection another great looking bath collection. Oh!! and their Bellina box is super nice! Did I mention they have dresses? They have some really nice dresses, that are sure to bring out the smexy in any woman. I have always loved corsets, and they have few really awesome ones.
So be on the look out for my newest series "Pamper Me Please", where I'll share with you how I spent my day pampering me!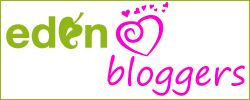 Disclosure:
"A gift card was provided to me free of charge by Eden Fantasys in exchange for an unbiased review. This review is in compliance with the FTC guidelines."